Looking for exporting address book (contact list), version of (Mac OS 10.9), easily Convert Your Contacts to an Excel File (V-Card to CSV file format) in Mac.
Mac Operating system has its own special requirements for file development. Here you have a special address book in Mac and V-card is the file format supportive for this. Such restricted feature of Apple allows Macintosh users to manage their personal and business record at one spot with ease. But sometimes you have to export this address book for other computers especially windows. This tutorial is a complete user guide about how you can convert V-Card to CSV and transport your contacts to other systems?
Usually cloud based applications such as Hotmail, Gmail and Skype allows you to keep infinite contact lists and let you sync them where ever you are. But VCard is a ready to export format with ordered information of the contact. We have certain tools and techniques to convert into CSV, which I more surface and compatible with other operating systems and especially executes in MS Excel.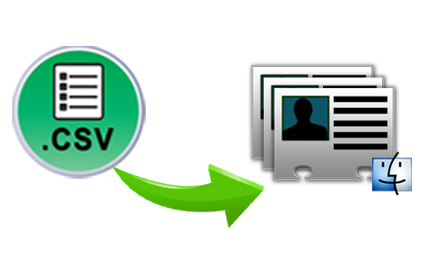 Requirements for Conversion Process
For the method explained in this tutorial, you have two particular requirements to start the process;
Address book on your Mac with version 2.0 or later
Microsoft Excel 2008 or any later version
Once you make sure you have both with compatible versions, start converting files.
Step By Step Tutorial (Convert a VCard to a CSV File in Mac)
Here are some initial steps to convert V-card to CSV file format for address book;
Step 1
Execute and run MS Excel on Mac which you can find in App Menu
Step 2
Click on the file button on the top left corner of the Excel and select import
Step 3
As the drive opens, double click and select the desired V-card file to run in Excel
Step 4
Once opened, again click on File button and further click on save as
Step 5
When it opens the drive selection menu, choose file type as .csv
Step 6
After this, press save and your V-card file will be stored on the local drive in CSV format
This is the easiest way you can pull of this job in a couple of minutes and you can get your entire address book saved in .CSV extension. You can use this format in Windows as well.
What to Avoid?
If you have bundle of V-cards and you want to simultaneously convert all of them into desired format, carefully look-over;
Avoid selecting individual files rather select entire folder
Don't save without changing the extension
In case you didn't change the extension, repeat the process and select .csv extension
Avoid overlapping of cells on the spreadsheet when you chose the VCard file
Tutorial won't work for files other than VCard, Avoid and save your time
Any questions about Convert VCard to a CSV File in Mac? Like Techniology page for updating technology information about various gadget.
Tags:
Software tricks